To conduct a search:
1. Choose Ovid Medline (Advanced Search) or PubMed
2. Follow the instruction in step 1 below to search for your Disease/Disorder (shown in red on the diagram).
3. Follow the instructions in step 2 below to search for the appropriate Intervention (shown in blue on the diagram)
4. Follow the instructions in step 3 to filter your results for good Quality articles (shown in yellow on the digram)
5. Combine these searches using the Boolean operator "and". As you can see from the diagram, the result will be literature that combines your Disease/Disorder, the appropriate Intervention, and a Quality Filter. The desired search results are represented in white on the diagram.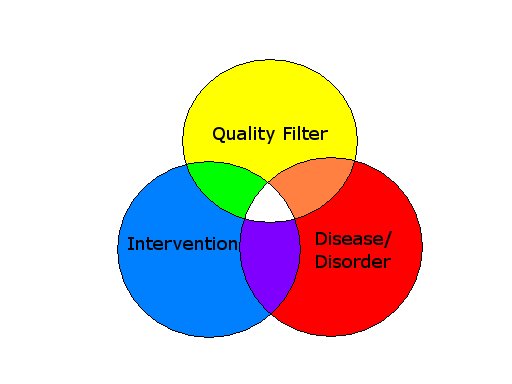 ---
The following are instructions for using OVID Medline:
Step 1. Searching the Disease or Disorder

Enter terms best describing the disease or disorder.

Possible subheadings (italic indicates most frequently used--for broadest coverage, select "all subheadings")
Diet Therapy (DH)
Drug Therapy (DT)
Prevention & Control (PC)
Radiotherapy (RT)
Rehabilitation (RH)
Surgery (SU)
Therapy (TH)
Transplantation (TR)
Step 2. Searching for the Intervention

Enter terms best describing the intervention.

Possible subheadings (italic indicates most frequently used--for broadest coverage, select "all subheadings")
Administration and dosage (AD)
Therapeutic use (TU)
Pharmacology (PD)
Step 3. Combine Previous Searches with a Quality Filter

Combine the first two search statements, using the boolean operator "and" and combine the final subject statement with the quick filter (hedge) below. You may also wish to filter your results to quality articles by using the Clincal Queries option in the additional limits section of Medline.
---
1. Quic Filter for Therapy/Prevention Articles
As a quick filter for good quality articles on Therapy or Prevention, combine your subject search with the appropriate search strategy (depending on whether you are searching Ovid Medline or PubMed).
Ovid Medline:
(randomized controlled trial or meta analysis).pt. or double blind$.tw.
PubMed:
randomized controlled trial [ptyp] OR systematic review[ptyp] OR double blind* [word] OR "double-blind-method" [mh]
Ovid Medline:
Found within the Additional Limits section, this specialized search function provides fast access to reliable clinical studies via 8 categories that can be added to a query.
These methodology filters allow searchers to quickly locate literature on:
therapy
diagnosis
etiology
prognosis
clinical prediction guides
qualitative studies
economics/costs
reviews
Each category further utilizes an emphasis category (or search hedge):
Sensitivity

Retrieves most of the relevant articles.
Less relevant articles will also be included.
Finds a greater total number of articles

Specificity

Retrieves articles most relevant to your query.

A few less relevant articles may also be retrieved.

Limits the total number of articles found.

Optimized

Combination of sensitivity and specificity
Pubmed:
Found under Clinical Queries in the left hand menu.
This search finds citations that correspond to 5 specific clinical study categories:
etiology
diagnosis
therapy
prognosis
clinical prediction guides
The search may be either broad and sensitive or narrow and specific. Please see PubMed's filter table for more details.
---